At the beginning of the school year, @cammysherbert and @failspy started up an inter-ALC offering: weekly psychology meet-ups, using Crash Course videos from YouTube. We meet every Tuesday, discuss a video we've independently watched, watch a second video, and have a second discussion session.
In recent weeks, we started discussing theories about our minds and selves. The episodes about Mind were interesting: we discussed cognitive development, how people learn, attachment, motivation, morality, and more. We had lots of conversations about how different theories made more or less sense as tools to understand our lives, as well as ways they do or don't support what we do at ALC.
We started exploring our Selves with discussions about consciousness, Freud and Jung and Roraschach, where we see the impact of nature and nurture in our lives. We ended last week discussing whether Erikson's stages of psychosocial development resonate with us, and we appropriately (considering Erikson's emphasis on the importance of identity formation for adolescents…) spent this week talking about our personalities.
I watched the video with @douglasawesome @thewitchqueen908 @serenagermany and @xxxxpgainzxxx. Of course, even while discussing how none of the personality measurement schemas struck us as complete or perfect, they were most interested in figuring out who the tests would say they are. So we started to play:
We looked at the Meyers-Briggs test through a chart and this website where we played with the test.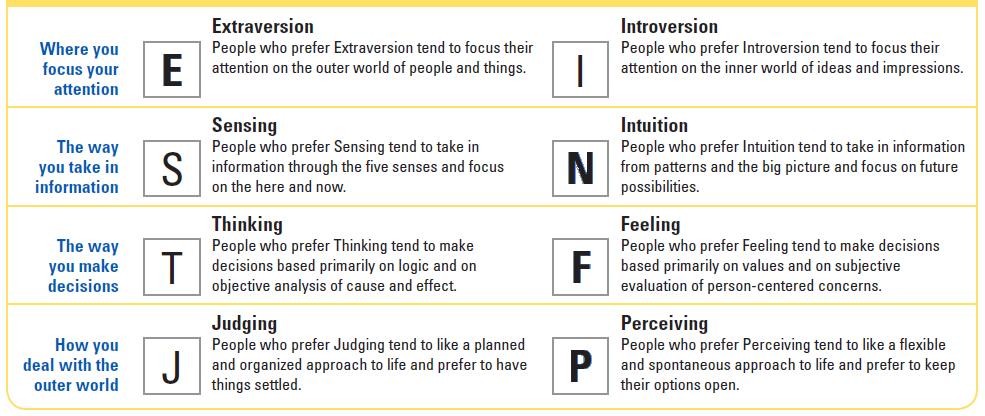 Eli and Askani were saying how they love to take tests and joked about wanting to take the Minnesota Multiphasic Personality Inventory exam when the video mentioned it as the most comprehensive…joked until we learned that it was 500+ questions, that is.
We talked a little about Buzzfeed quizzes, why we want to develop our internal locui of control (as mentioned in the video) but also of identity…how we know that our identities are based more on what we decide than on what others say we are, but can still take quizzes for fun. And then we got into playing with other tools and schema.
For example, we explored the idea of Love Languages:
We explored the concept of gender expression:
And we ended brainstorming ways that these tools–developed for helping us measure and articulate the characteristics of our Selves–can alternatively be super useful when trying to improve communication or figure out how to best work/play with others. We'll see if that's where the Crash Course videos choose to direct our attention next 🙂